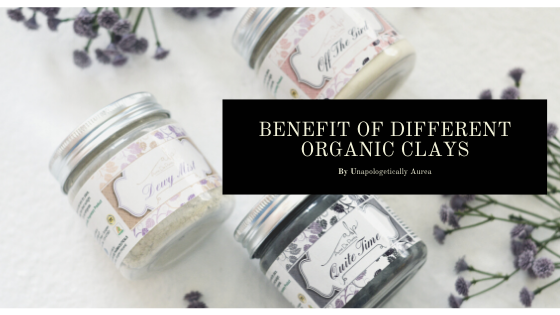 Benefits of different Organic Clays found in Nature
We often hear about clay masks and how they are good for us, but we don't know how or why. There are different types of clay masks and they do different things for our skin. We need to find the one clay mask which will provide our skin the love and effects it deserves. Organic beauty products in India with special clay can be found here at Aura De Purity. But first, let's check out what clays are and the different types of clays, and their benefits.
Clays have been in use since ancient times as they are known for their medicinal and rejuvenation properties. Earth is full of good minerals, different types of clays originate from different combinations of natural minerals and soils. Clays are known for their healing properties, and for removing impurities from the skin pores. There are many different types of clays that can be found in skincare, the most common and remarkable ones are Bentonite clay, kaolin clay, and Multani mitti also known as Fuller's Earth. Aura De Purity offers a variety of clay masks, so check out herbal beauty products in India here.
Bentonite Clay
Bentonite clay naturally forms as the volcanic ashes age. It has a negative charge which works as a natural detoxifier for your skin. Bentonite clay pulls out the dirt, pollutants, and other possible bacteria from your skin. It gives you a natural glow from within as it works to treat your skin, especially now more than ever, we need Bentonite clay to work against the damage that pollution does to our skin. We use Bentonite clay in ADP's Off the Grid face pack and ADP's charcoal-based face pack Quiet Time. Buy Herbal Beauty Products online with Bentonite Clay here.
Also Read: Easy Ways to Avoid Oily Skin and Acne
Kaolin Clay
Kaolin clay is also known as China clay or white clay. It is a natural detoxifier and natural exfoliant; it removes excessive oil from your skin without stripping you of your natural oil. It removes dead skin cells without irritating skin and accelerates the growth of healthy skin. It is the mildest clay that is highly suitable for sensitive skin and acne-prone skin. When it's used regularly, it brightens up the skin tone and lightens the acne scars. ADP's Dewy Mist and Off The Grid face packs contain Kaolin clay; you can check it out here.
Multani Mitti
I believe every Indian kid has heard of Multani Mitti also known as Fuller's Earth Clay. It has great healing power which works wonders if you have acne scars, depigmentation, and uneven textured skin. Multani Mitti helps boost circulation and exfoliate blackheads and whiteheads. It gives your skin a natural boost that it may need. Multani Mitti is a great pick-me-up for your skin and answer to all of your skincare problems. Check out our Off the Grid face pack which contains Multani Mitti here.
Pink Clay
Pink Clay is naturally rich in silica which is amazing to improve skin elasticity. As we age, our skin loses its elasticity which leads to wrinkles and sagginess of the skin. Pink Clay helps in tightening and enriching our skin with good benefits. It also works hard in minimizing the appearance of pores, blackheads and it balances out our skin tone. Buy our rose blush scrub to exfoliate and improve your anti-aging skincare routine.